11.05.2022
SPRING JOURNEY IN KYOTO

SPRING JOURNEY IN KYOTO
Hello, this is Noriko. I had a chance to visit Kyoto with my colleague in the beginning of April, when the cherry blossoms were in full bloom.
Please let me sure the great spring sceneries in Kyoto with you this time.

Firstly, we visited Heian Shrine.
On the way from Sanjo station to Heian Shrine, the clear stream of the Okazaki Shirakawa River flows.
The most famous cherry trees, Somei Yoshino was in full bloom above the river, and a refreshing wind
was blowing with petals floating on the surface of the river.
Walking for a while along the river, the great Torii Gate of Heian Shrine caught our eyes.

Heian Shrine is famous for its large garden with a lot of weeping Cherry Blossoms, which have darker pink flowers.
When we stepped into the garden, the bright pink weeping cherry trees greeted me.

After visiting Heian Shrine, we walked to Maruyama Park which is located just behind Yasaka Shrine.
In Maruyama Park, Sakura (=Cherry blossoms) Festival was being held.

I felt this is the best place to enjoy Ohanami (= Cherry blossom viewing party) in Kyoto since a lot of food stalls sell various food and drinks providing seats inside the park during this season, and above all, you can enjoy great view of cherry blossoms close to you.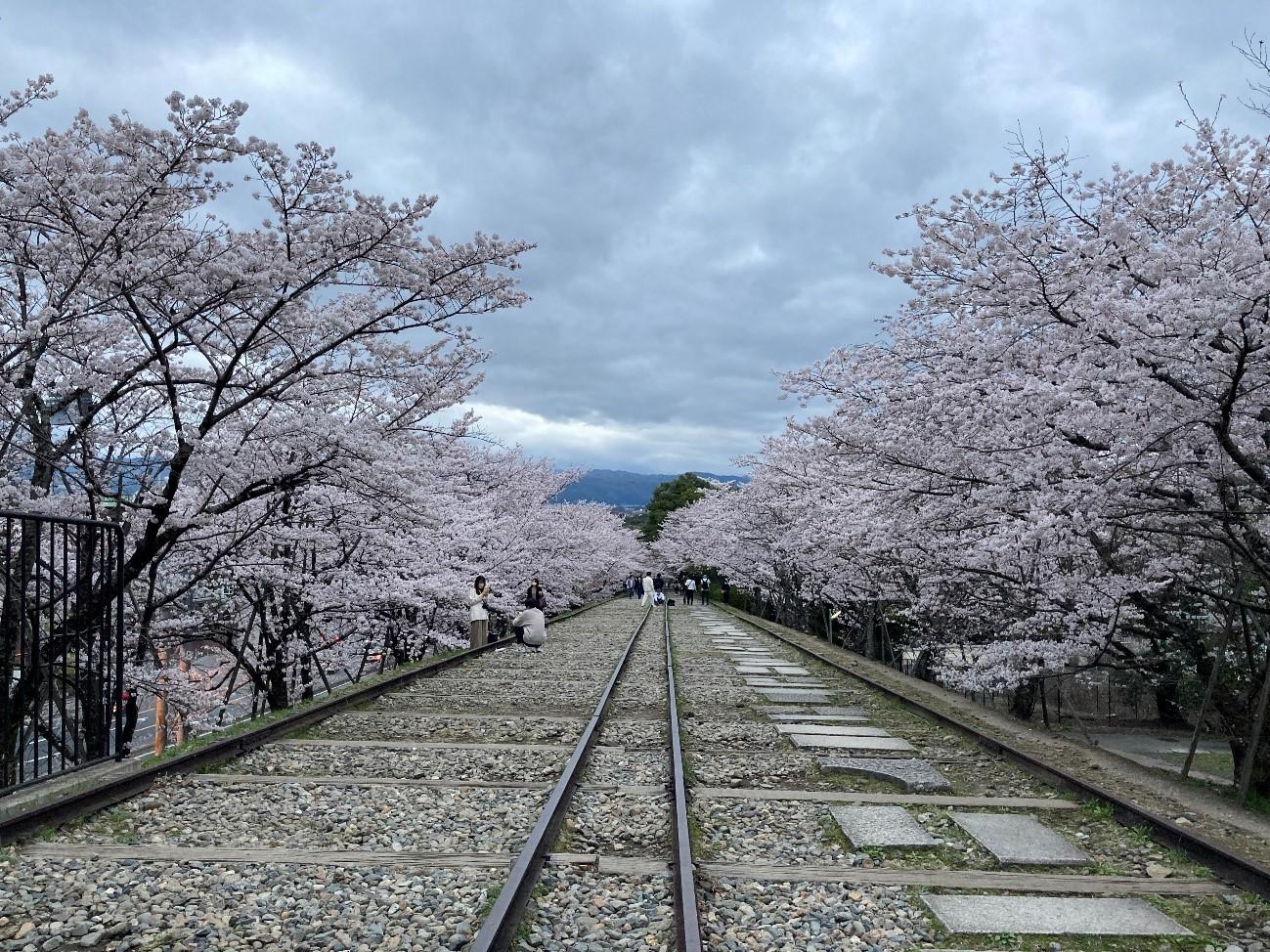 In the evening, we head to Keage Incline, which is located 20-minute walk from Maruyama Park.
Keage Incline is the longest inclined railway site in the world with a total length of 582 meters.
It operated from 1891 and ended its role in 1948 with the decline of boat transportation, and the ruins are now designated as cultural properties of Kyoto City.
About 90 cherry trees are planted along the railway line, and in spring you can walk along the beautiful scenery.
After visiting Keage Incline, we went to "Naked Flower Festival 2022", the night festival of cherry blossom right-upped viewing at Nijo Castle.
This is my first time to visit Nijo Castle at night.
At the entrance, we borrowed lanterns to light our feets. Colorful lanterns held by people made the night view fantastic.
The illuminated cherry blossoms were powerful and beautiful enough to sigh. It is worth a look!

Kyoto has much more places with great spring sceneries.
Next, discover the best views in Kyoto with your eyes!