25.10.2021
Higashi-Matsushima: Outdoor fun and delicacies from the sea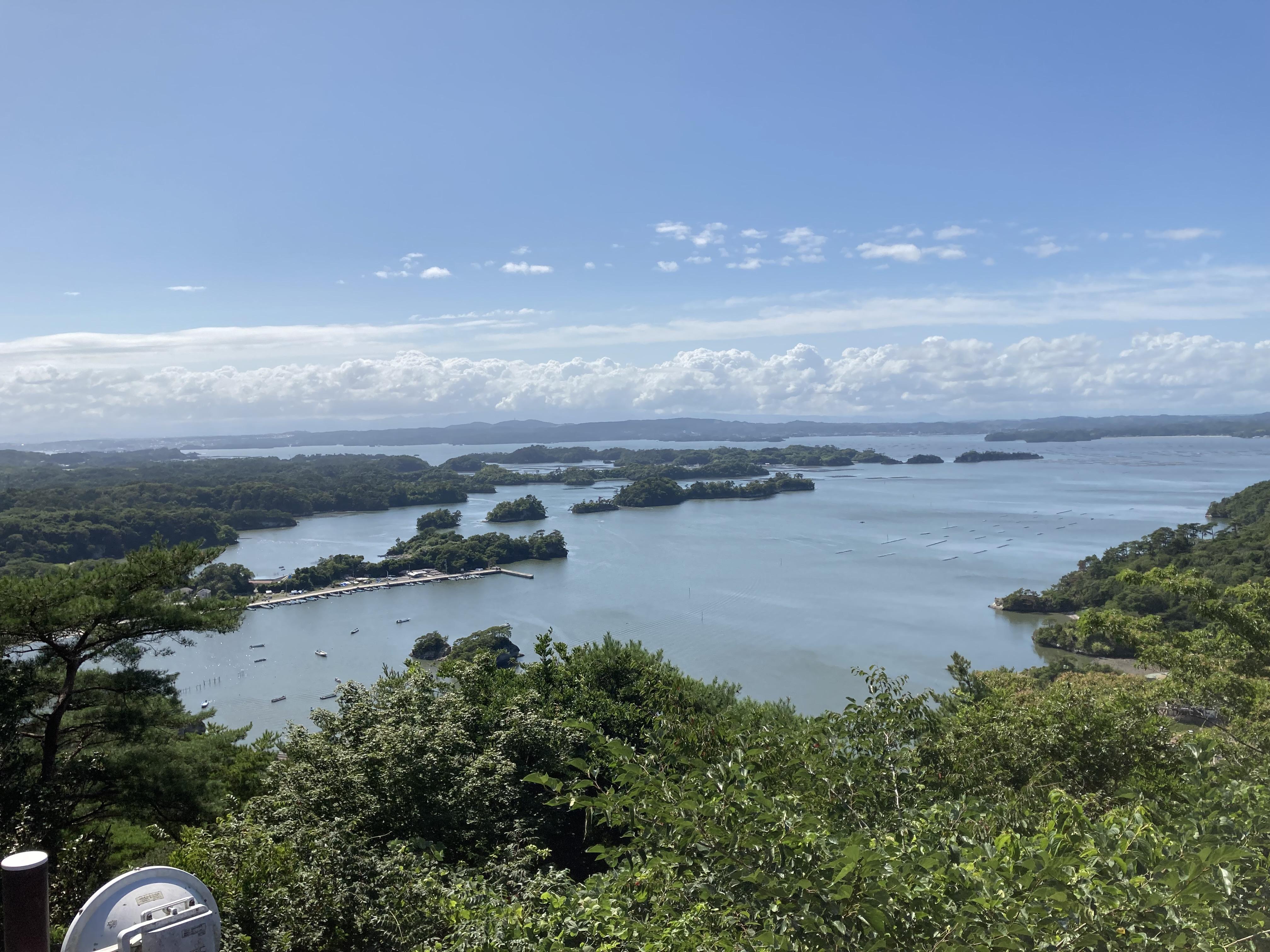 Higashi-Matsushima Cycling
Hello!
This is Sarah for Hankyu Travel and I am happy to tell you today about some of the things we experienced during our companies trip to Higashi-Matsushima in Miyagi prefecture. Some of which you might have heard about in our online seminar on the 14th of October.
(If you could not attend and wish to receive the link to the recording or material, please contact your direct partner or our email address below.)
First of all, we would like to introduce to you cycling around the coast of Higashi-Matsushima, where you can visit all the important sights of this one of a kind city in one go.
Only a 2 minute walk from Nobiru Station you can rent bicycles at Oku-Matsushima Eat Plaza. Normal bikes as well as electronic bikes are available for 500YEN an hour or 3,000YEN per day.
We rented our bike for just about an hour and went from the rental place to various spots around Higashi-Matsushima. We passed Kibocha, Oku-Matsushima Clubhouse, the Earthquake Disaster Recovery Memorial Museum, and took a break at the Sagakei Pleasure Boat Information Center, where we had some delicious ice cream.
The way back was a little harder to manage, because of the small hills, but with my electric bicycle I did not have much of a problem.
Overall I would say this is the perfect method to get around Higashi-Matsushima on any given day and I wish we could have had a little more time for just exploring the area on bike.
Introducing Japanese Food - Higashi-Matsushima Gourmet
As a coastal city, Higashi-Matsushima has a variety of seafood to offer to its visitors.
During our stay in summer, we were able to try some of these local specialties.
At the Oku-Matsushima Club House we were able to enjoy a delicious seafood BBQ with oysters, scallops, turban shells and more. Freshly caught outside of the coast of Higashi-Matsushima, they were extremely fresh and grilling them ourselves in front of the big windows of the clubhouse was an enjoyable experience.
As an alternative to the fresh seafood the clubhouse also offered another specialty.
Soba (buckwheat) noodles kneaded with finest Nori seaweed powder, giving them a darker tint and a unique flavor.
Matsushima seaweed and oysters are well know all around Japan and shipped all over the country and the seaweed is actually so good, that it got presented to the emperor and the imperial family of Japan multiple years in a row. A great honor for the city.
Personally, I am more a fan of beef and pork than seafood and thankfully Higashi-Matsushima is also home to one of the most delicious beefs in Japan.
Only the highest rated Japanese black breeds are good enough to be named as Sendai beef, Sendai being the prefectural capital.
We got to eat this delicious beef as yakiniku BBQ for lunch and it left us satisfied for hours.
If you have a chance to stay in Higashi-Matsushima, we definitely recommend the sea food, but we are sure that even vegetarians and people who do not like seafood will be able to find delicious alternatives.